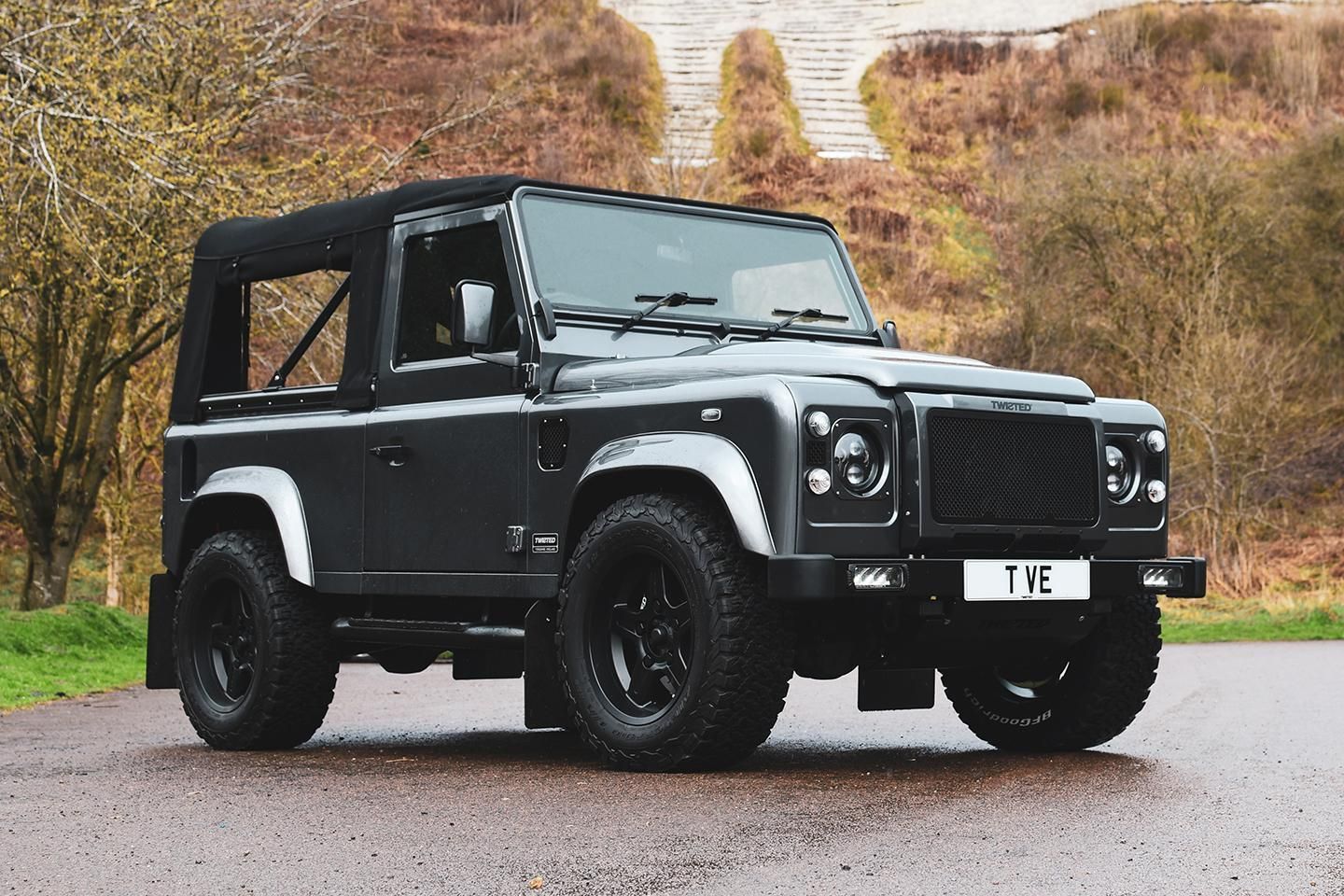 There are those that get their knickers in a twist about sticking batteries and motors in classic cars, and then there's Twisted Automotive, which sees this as adding another, err, twist on the theme of classic Defender tweaking. You can still buy its ICE models, of course, which now include the new T-V8, with its GM-built LT1 V8. This is described as a bit wild. Or there's the also-new T-VS, with a 308hp turbocharged 2.3-litre Ecoboost motor. This is described as the thinking man's Defender, because it sits in between the earth-scourging V8 and the earth-soothing EV.
The Twisted EV is expected to account for around 10 per cent of sales initially, but, in three-year's time, the firm reckons it could be as much as 50 per cent of the order bank. And it isn't some low-voltage, hemp-and-sandals thing, either. The 90 model has a high-voltage 61kWh battery (81kWh for the 110) fuelling a 268hp electric motor with 885lb ft of torque. It offers a quoted range of up to 140 miles for the 90 and 180 miles for the 110. It'll take around three hours to replenish the battery, via the 22kW on-board charger, or eight hours if you plug into a 7kW home wall box.
Now, if you're thinking this is a plug-and-play Tesla driveline, it isn't. There's a DANA TN4 Sumo motor and Envision AESC batteries with liquid cooling and heating to maintain a stable temperature. It's all been developed in conjunction with engineers in the Netherlands to Twisted's bespoke brief. This stipulated the retention the low-range box, the centre diff-lock and the manual handbrake. Both latter items have obvious merits, although you might argue that the retention of the low-range box is a bit pointless when you have a high-revving motor and tectonic-plate-shifting torque from the off. And you'd be right. But the point here is to retain as many of the Defender's appealing core attributes as possible (note the appealing ones, because, as we'll see later, the less appealing traits are dealt with). It also makes the system more easily reversable, should you wish to drop a combustion engine back in.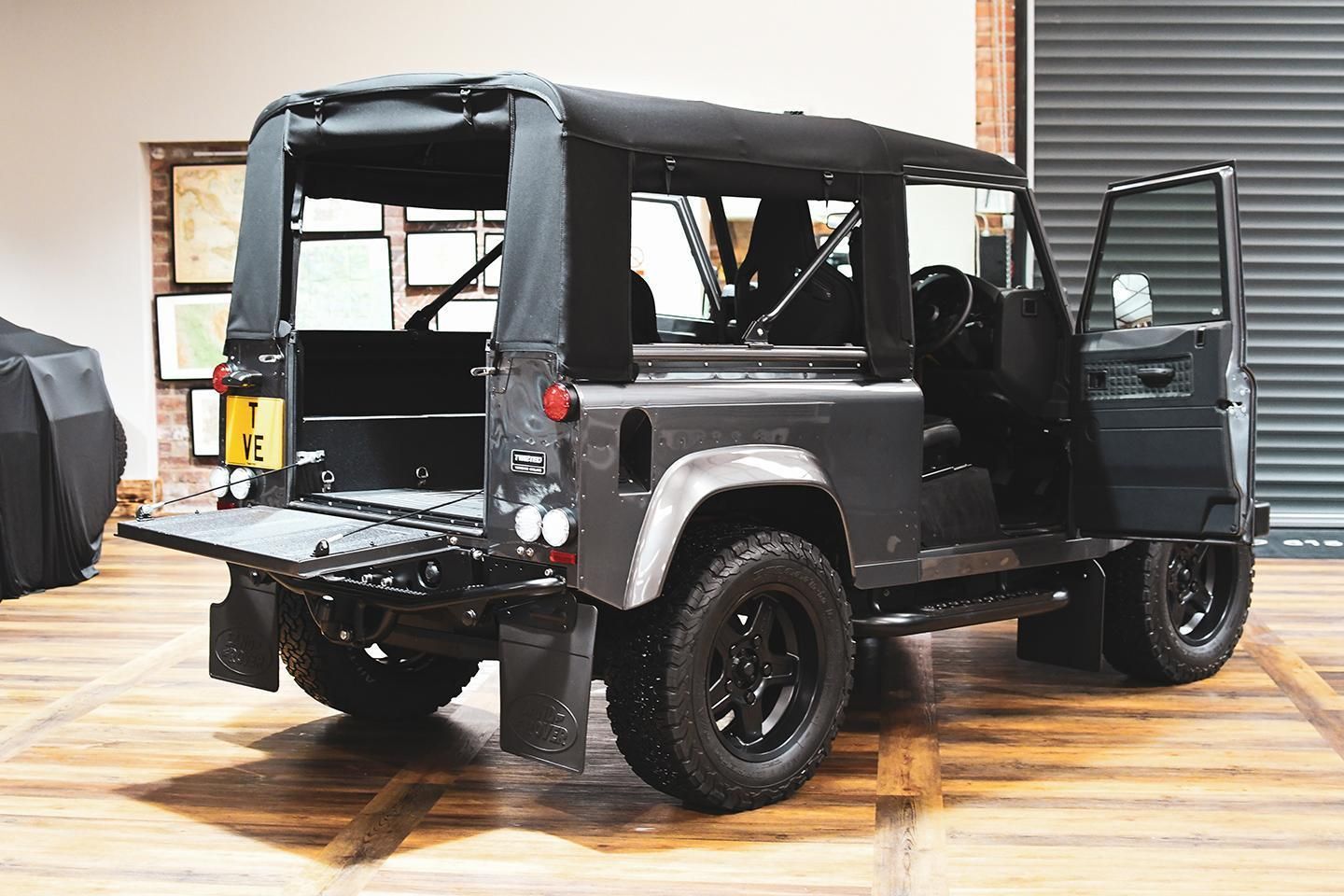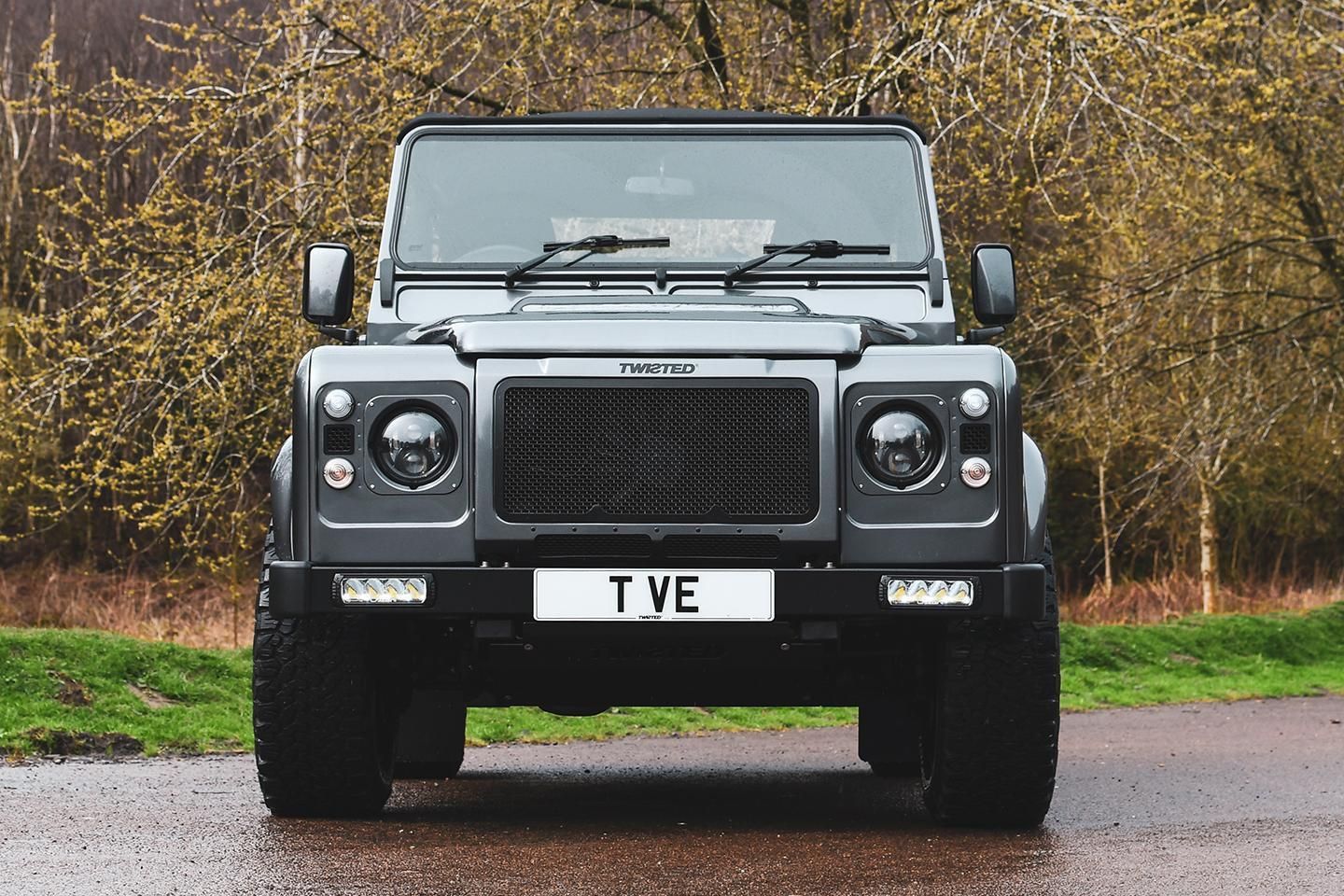 Whatever you think about an electric motor subtracting from the Defender's earthy authenticity, it adds to its off-roading abilities. Instead of a wading depth of 500mm, the EV can wade through a stream up to 900mm deep – that rivals the new Range Rover. This is because all the high-voltage elements are IP67 sealed and the batteries aren't hanging down low ready to be snagged. They're located in the engine bay, where the fuel tank was and within the chassis rails, all protected by a steel plate. This means the approach and departure angles and the ground clearance are undiminished, as is the rear load bay. There is more weight of course – around 300kg – but the Defender wasn't exactly lightweight to begin with.
The only real visual difference is the loss of the gear levers, which have been replaced by an EV control panel. And the rev counter, fuel level and water temperature gauges have been replaced by a battery charge level and temperature gauges for the battery and motor – all of which mimic the look of the originals, which is a nice touch. Twisted's founder, Charles Fawcett, says it's important to maintain this sort of attention to detail. "The Defenderisms (nice phrase) are what we think are import. A Defender acts in a certain way; we can tone it down, but we don't want to eradicate its quirks."
He's also keen to point out that while the business started out modifying Defenders, it has since morphed into an engineering company. Looking at the lengths it goes to rectifying some of the less wanted Defenderisms, it's hard to disagree. The suspension, for example, isn't simply a few Bilstein dampers and springs bolted on. It is bespoke; the work of Rhoddy Harvey-Bailey, who has produced a handling pack ­designed to cut understeer and oversteer, and deliver more front-wheel articulation and a more progressive ride. The ladder-frame chassis is also a bit stiffer, too.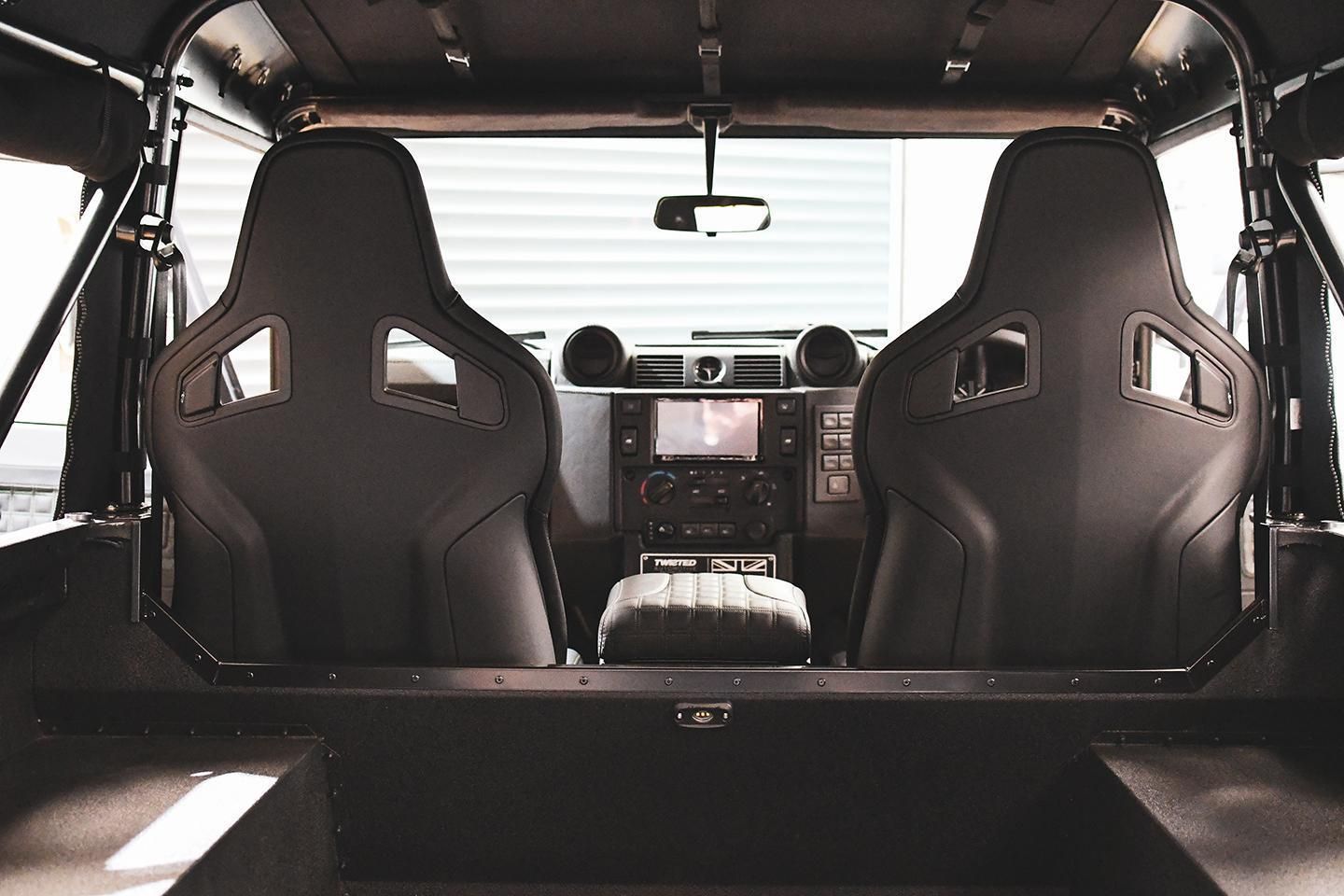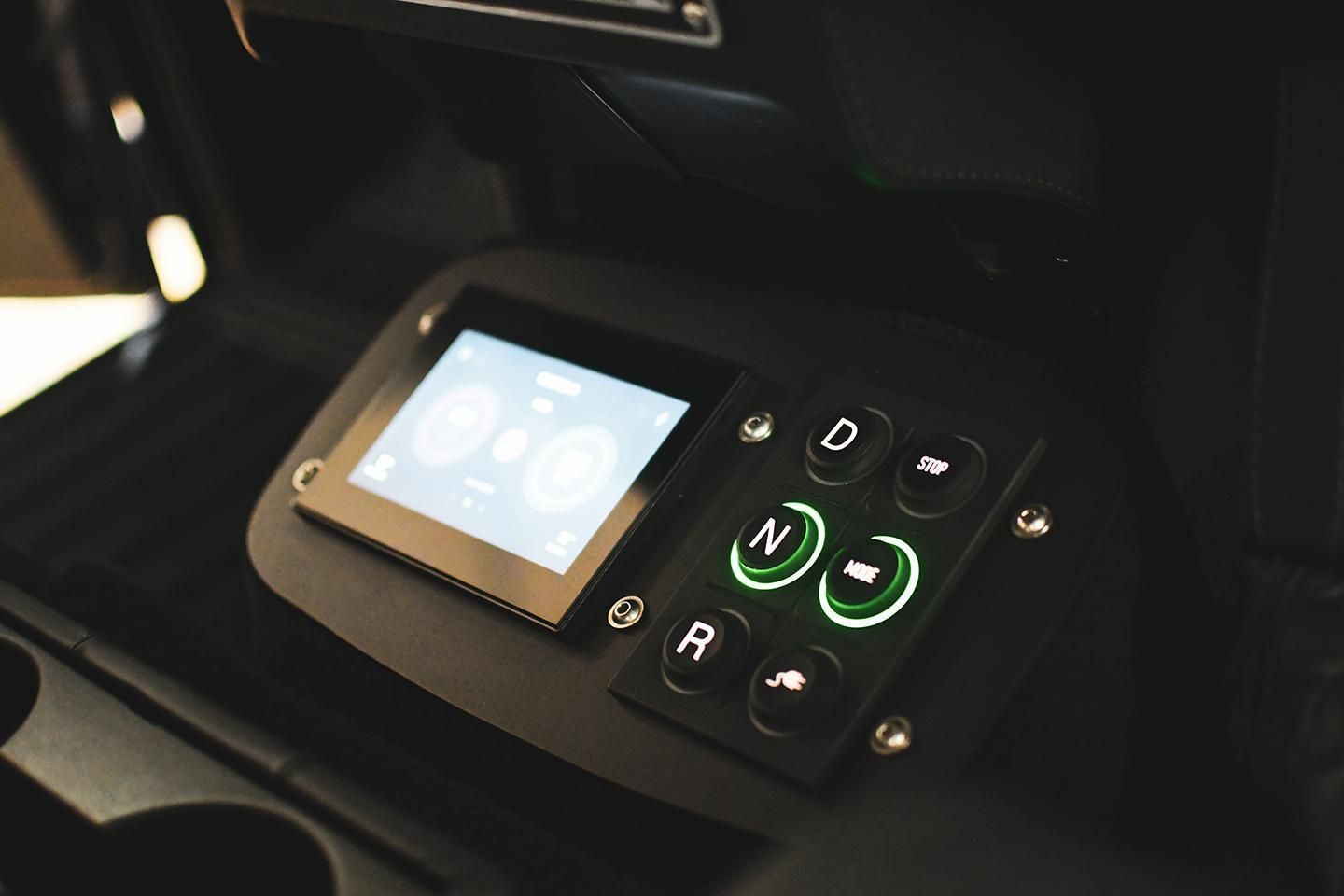 On the subject of the chassis, everything that's bolted to it – which starts with the bulkhead – is aligned more precisely. Up to a day is spent getting the doors fitted properly. This means they shut with a light shove and open with a satisfying click, using the bespoke, billet aluminium handles. And the Defender's colander-like tendencies have been addressed, too. A good example of this is the door seal. As you'd imagine, this is pressed onto a ridge around the door aperture. The trouble was the door aperture wasn't bonded to the roof at the factory – there was a gap between it and the seal. So it wasn't, in fact, sealed. In a Twisted it is, so the high-quality, stitched-leather interior doesn't need a bilge pump to stop it going mouldy.
As much as possible, the driving position has been adjusted as well. Being tall, I've never really fitted in a Defender, but Twisted can tailor the seat mountings to suit different heights and add a bit more scope to the seat runners – every little helps. The seats themselves are also excellent. They're Recaro Cross Sportsters – the same seats that Land Rover fitted to the 60th Anniversary model. But those had a flat squab that induced a numb bum after a while. Twisted has designed its own, more comfortable and shapelier base to stop that happening. It can also be removed to gain access to the low-voltage battery underneath. Another boon, as far as ergonomics goes, is the smaller steering wheel, which is now electrically assisted.
Right, that's the segue into the driving, which wasn't a typical, all-consuming test route. We're in London to sample not just the new product but also Twisted's new Kensington showroom at Radley Mews – previously the home of classic car dealer Graeme Hunt Ltd. So the driving was short and solely around the West End; although, in fairness, because this is where many of the prospective buyers will choose to use their ULEZ-free Twisted EVs, it's probably fitting.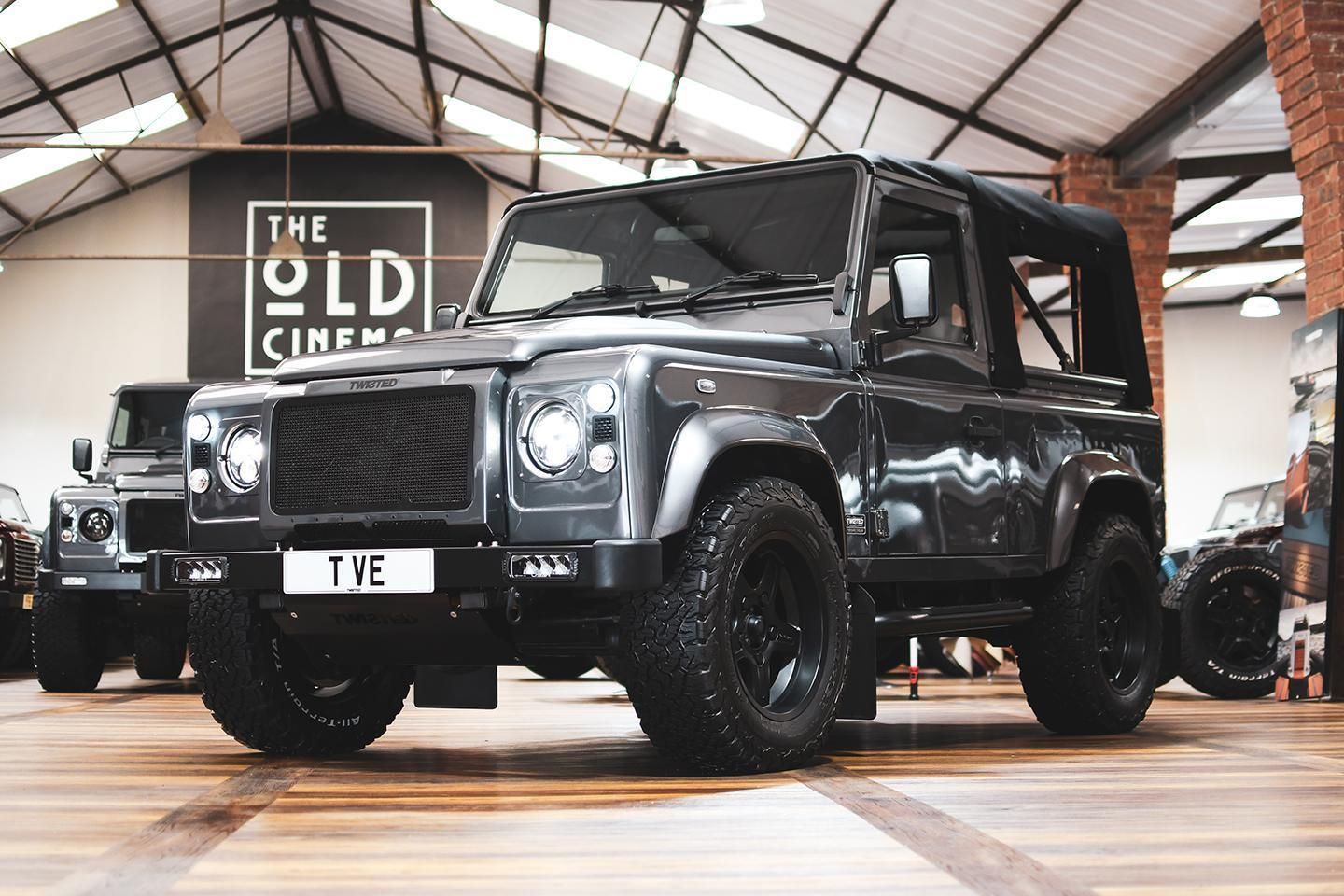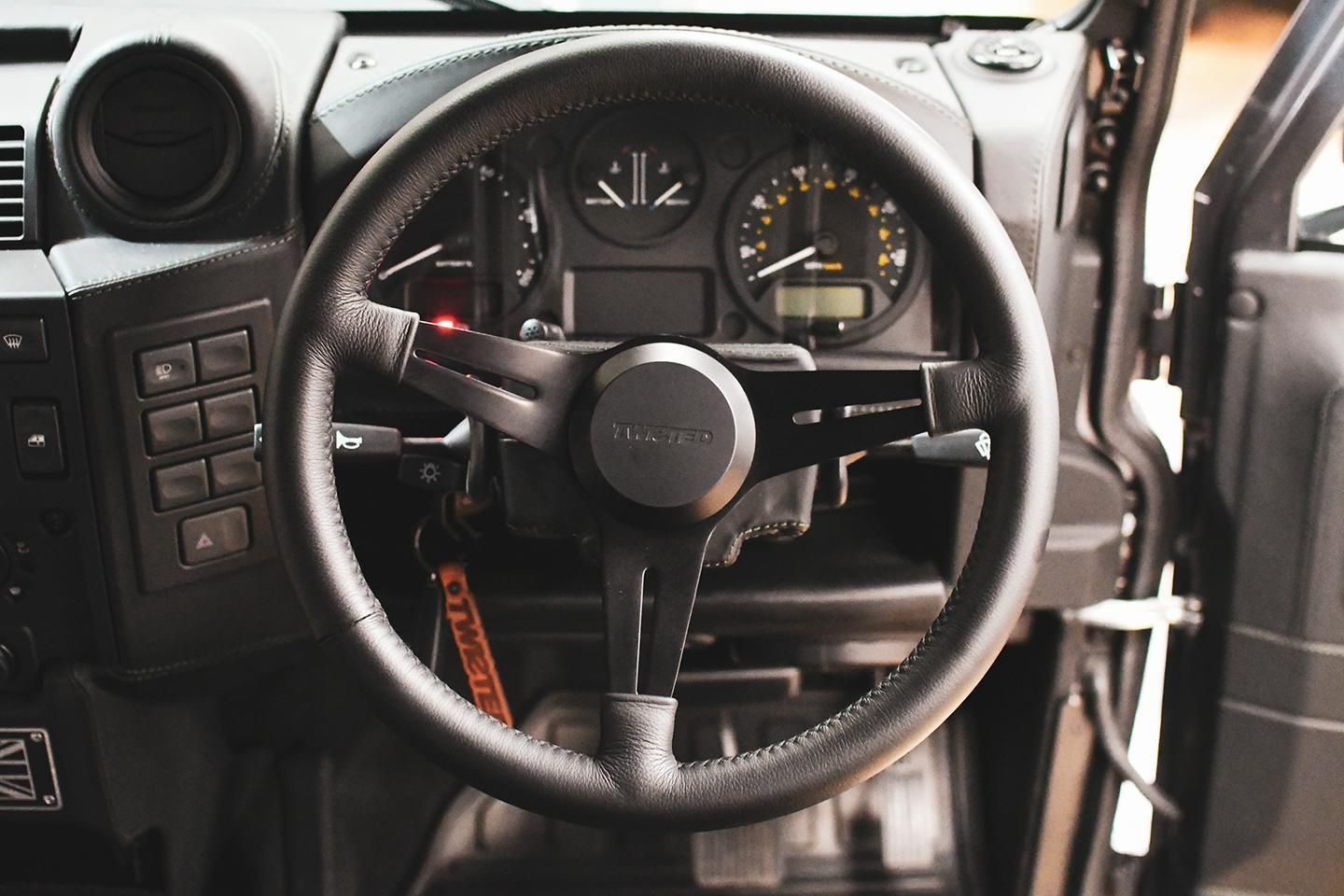 To get the car moving you twist the key as normal, but instead of waggling a massive gear and pressing a heavy clutch, phase two is to push 'D' for drive or 'R' for reverse on the panel set into the transmission tunnel. Simple. Next, release the handbrake, apply some 'throttle' and the Twisted EV pulls off ridiculously smoothly. And almost silently, other than some slight gear whine in the drivetrain. It isn't silent inside, though, because this version is a soft top, which still has doors and windows at the front, but everything rearward is open to the sights, sounds and smells of high-intensity London life.
It's quite endearing, though, and clearly the Twisted EV is endearing itself to other motorists because, rather than jostling you for position, they seem inclined make space and let you nip in. And it's got the poke to do the nipping, although there wasn't much opportunity to sample more than that on streets littered with speed cameras and 20mph limits. What I can tell you is that the power delivery feels like it's been tuned well because it's easy to regulate. There are two modes: one is Sport, which, as you can imagine gives you everything, and other is Eco, which limits the car to 60mph and adds some regenerative braking.
On which point, the brakes are amazingly good. The regen comes solely through the accelerator, leaving the brakes uncorrupted. But they are much stronger and more progressive than any classic Defender I've driven before. As you'd expect, they've been upgraded, too: to six-pot calipers at the front and 4-pots at the rear, with bigger discs all round. Is the Twisted's ride easier going? Well, the last old-school Defender I drove was a Heritage Edition in 2015, so it's been a while. And this is a SWB 90, so it's still lively, but over the embarrassingly poor roads of one of the world's richest cities, it's not brain numbing and therefore quite tolerable. There's a fair bit of vibration from the BF Goodridge All Terrain tyres, but you can specify Michelin Latitudes with a smoother tread pattern that would no doubt quell that somewhat.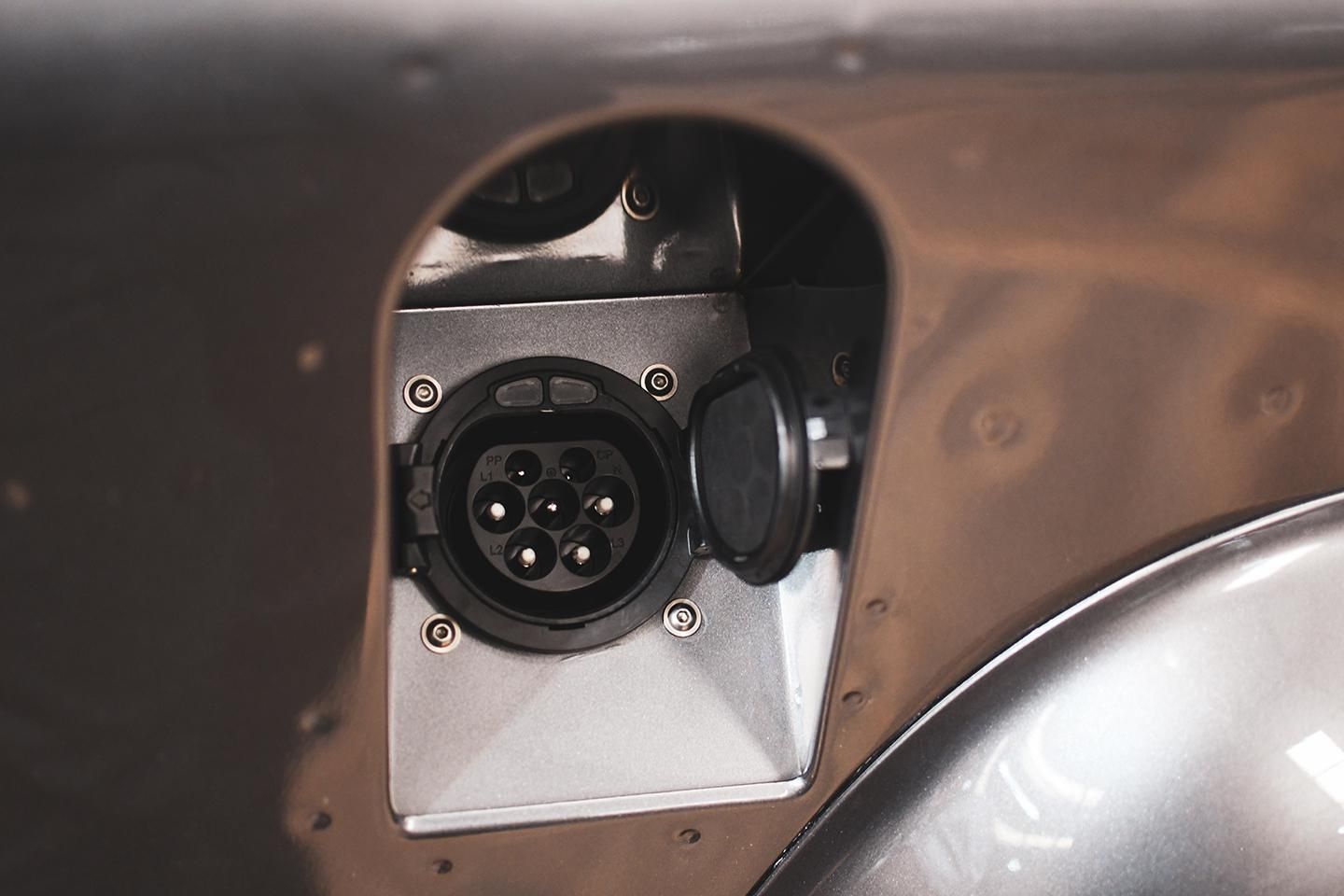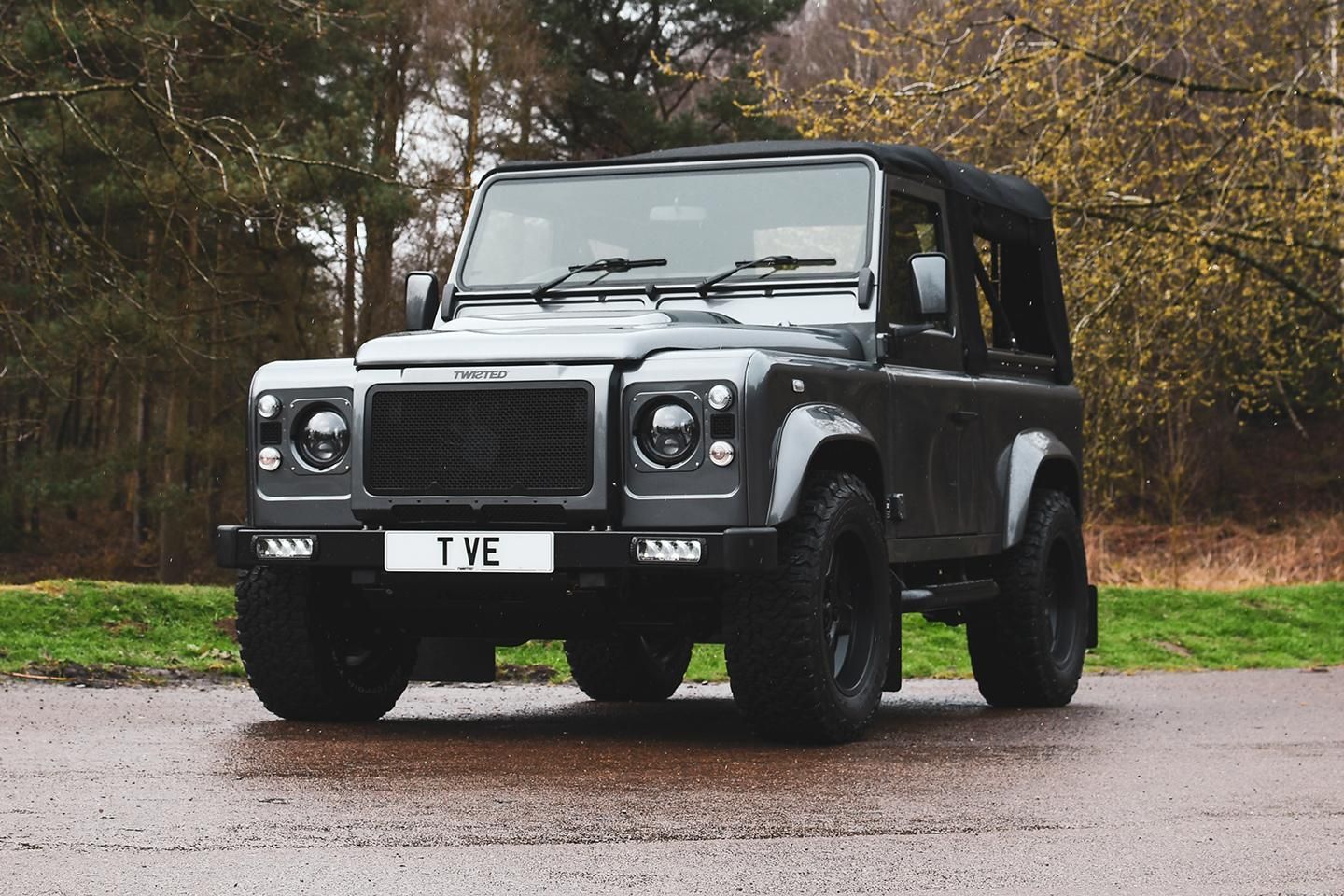 What you do notice is the steering's continued lack of willingness to self-centre. To the degree you need to be quick to unwind the lock out of a tight T-junction because you could quite easily keep veering into the side of a Bentley parked in Berkley Square. Other than this it's easy to handle. I mean, it's a Defender, so it's not precise, yet despite the small-diameter wheel it's not too heavy and does what's required of it in town. I haven't a clue how it will behave at the national limit on winding A-roads, though.
Still, I'd like to think it would do the job, because nothing I saw from Twisted feels like it's been rushed, or half done. To be fair, at £225,000 plus VAT that's exactly what you would expect – but you don't always get what you pay for. Here, you are buying a properly (re)engineered product. In terms of classic Defenders, it is certainly one of the most diligently seen-to options there is, right down to the bespoke wheel nuts. And just as importantly, in a market that thrives on emotion, the EV is a car built by people with passion. Or as Fawcett says, "we're Defender people first and business people second." Nicely put.
Specification | Twisted EV Land Rover Defender 90
Engine: Single electric motor
Transmission: 1-speed auto, four-wheel drive
Power (hp): 268hp
Torque (lb ft): 885
Useable battery size (kWh): 61
0-62mph: N/A
Top speed: N/A
Combined range: 140 miles
Energy consumption: N/A
CO2: 0g/km (WLTP)
Kerbweight (kg): N/A
Price: £270,000